Using Technology for Improved Comfort & Convenience
Our Calgary dentist at Green Plaza Dental Centre use a variety of dental technologies to help develop and implement efficient treatment planning.
Digital X-Rays
Digital x-rays produce very detailed 3D images of your teeth, gums, and other oral structures.
They require no chemical processing, unlike traditional x-rays, and significantly reduce radiation exposure.
Panoramic X-Rays
Panoramic dental x-rays are able to create a single image of your mouth, capturing a flat representation of your teeth, upper and lower jaws, nasal and sinus areas, as well as the temporomandibular (TMJ) joints.
Dental Lasers
Lasers are used in a variety of dental treatments, such as cutting hard and soft tissues, vaporizing decayed material, hardening restorations, and intensifying the effects of teeth whitening agents.
They help lessen swelling, bleeding, infection, and the need for anesthesia, which is especially helpful for our anxious patients.
VELscope Oral Cancer Screening Device
VELscope is a hand-held wireless device that uses fluorescence visualization technology to identify irregularities and diseases in the mouth, such as cancerous and pre-cancerous lesions, that would otherwise be difficult to spot.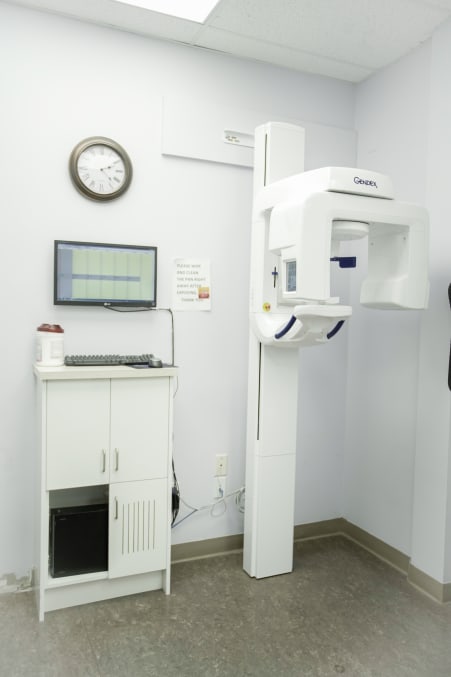 New Patients Always Welcome
Contact our Calgary dental office today to get started on the path to great oral health.
Request An Appointment
Hours
Monday:

09:00 am - 06:00 pm

Tuesday:

09:00 am - 07:00 pm

Wednesday:

09:00 am - 06:00 pm

Thursday:

09:00 am - 07:00 pm

Friday:

08:00 am - 04:00 pm

Saturday:

08:00 am - 04:00 pm

Sunday:

Closed
Quick Links