Want a straighter smile? We can help.
Orthodontics can help correct many oral health problems, such as overbites, underbites, and jaw disorders. Our Calgary dentist offers orthodontic treatment with traditional metal braces or Invisalign clear aligners.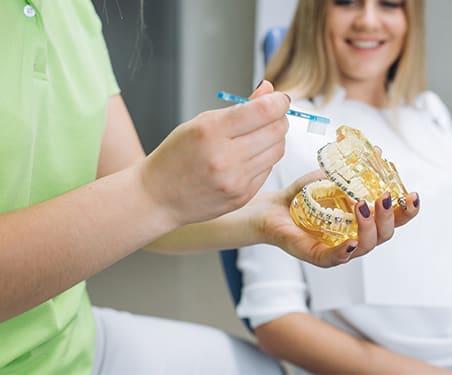 Traditional Metal Braces
Metal braces have been used successfully for decades to straighten teeth.
With recent advances in orthodontic treatment, metal braces have become low-profile, more comfortable, and are easier to care for.
How Braces Work
Over time, the continuous pressure of braces works to slowly move teeth into their new position, creating a straighter, more even smile.
As the teeth move into their corrected positions, the bone will gradually change shape to adapt to the new placement.
Invisalign® Clear Aligners
Our Calgary dentist is happy to offer Invisalign to our patients. These orthodontic aligners are custom-made, clear trays that you wear to help straighten your teeth.
Invisalign works to correct misalignment without the use of brackets or wires and are difficult to detect, making them an ideal choice for patients who are looking for a discreet solution.
New Patients Always Welcome
Contact our Calgary dental office today to get started on the path to great oral health.
Request An Appointment
Location
Green Plaza Dental Centre
2240-4818 Westwinds Dr NE,
Calgary,
AB
T3J 3Z5
CA
Phone Number
Hours of Operation
Monday: 09:00 am - 07:00 pm
Tuesday: 09:00 am - 07:00 pm
Wednesday: 09:00 am - 07:00 pm
Thursday: 09:00 am - 07:00 pm
Friday: 08:00 am - 03:00 pm
Saturday: 08:00 am - 03:00 pm
Sunday: Closed